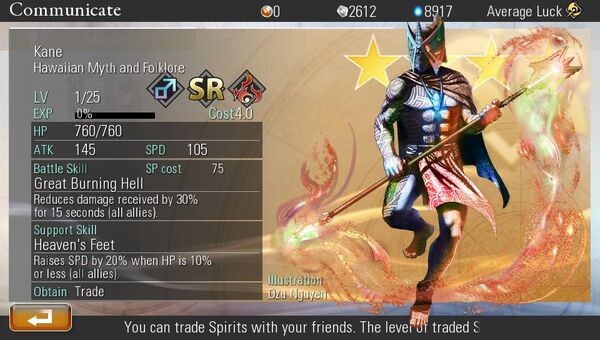 Name
Kane
Lore
Hawaiian Myth and Folklore
Rarity
Element
Cost
4.0
Skill Cost
75
Battle Skill
Great Burning Hell
Effect
Damage received -30% (all allies, 15 secs).
Support Skill
Heaven's Feet
Effect
HP10%↓: SPD +20% (all allies)
| Stats | HP | ATK | SPD |
| --- | --- | --- | --- |
| Base | 760 | 145 | 105 |
| LV 25 | 1249 | 295 | 183 |
| LV 35 | 1453 | 357 | 215 |
| LV 45 | 1624 | 409 | 243 |
| LV 55 | 1781 | 457 | 268 |
| LV 65 | 1938 | 505 | 293 |
How to Obtain

Hunt

Battle

Event

Can be obtained in battle at (-14, -3)
Spirit History and Lore
Edit
Kāne is the supreme deity in Hawaiian mythology and is the creator and giver of life associated with dawn, sun, and sky. There are many tales and legends involving Kāne, one of which deals with the origination of the term aloha.
Ad blocker interference detected!
Wikia is a free-to-use site that makes money from advertising. We have a modified experience for viewers using ad blockers

Wikia is not accessible if you've made further modifications. Remove the custom ad blocker rule(s) and the page will load as expected.