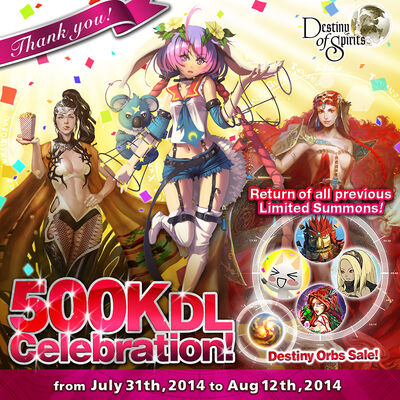 To celebrate reaching 500,000 downloads worldwide lots of bonuses will be available during this event, including a new Raid Event.
Event Content/Bonuses
Edit
1. Special Raid Event Friend in Need!
2. Supporter rental cost reduced
During the campaign, support spirit rentals will be discounted a whopping 80% from their normal spirit point price! Now's your chance to rent a whole army of support spirits to help you purify areas and defeat bosses.
3. Return of limited summons
During the campaign, limited summons from all past campaigns will be back:
KNACK, GRAVITY RUSH, DOKO DEMO ISSYO! and SOUL SACRIFICE DELTA!
Don't miss out on this chance, especially those new to the game or fans of these games!
4. Destiny Orbs discount
Destiny Orb packs will be sold on the PS Store at a discounted price! We are also introducing a 1000 Destiny Orb pack too!
Ad blocker interference detected!
Wikia is a free-to-use site that makes money from advertising. We have a modified experience for viewers using ad blockers

Wikia is not accessible if you've made further modifications. Remove the custom ad blocker rule(s) and the page will load as expected.